Monthly Archives:
January 2014
Alum and long-term friend of the USC, Doug Blush returns to tell us about his time @ Sundance.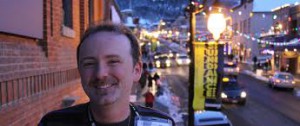 Hello again brave SC Sundancers, Doug Blush CNTV '88 back again for my fourth consecutive rumble in the slush.  This is my tenth Sundance overall, and I thought I'd share a few random memories of Park City pasts…
Part One – The Early Years
1990 – SLACKER'S PARADISE
My first one, joining a crew of an SC short doc called ON ICE about the cryonics movement (yep, freezing people's heads).  We packed into two dubious cars and drove the entire distance from LA to Park City in one long bleary shot only stopping for greasy scones outside of St. George.
Our tiny room at the infamous Chateau Hotel was home to, if I remember correctly, eight people, sleeping on floors, couch, in the bathtub and elsewhere.  Our primary food source was the bounty of free proto-energy bars and little airline bottles of Skyy vodka raining down on us from the filmmakers' lodge, along with the cheap taco joint near the Holiday Cinemas.  The fest was very young, with the ripples of SEX, LIES AND VIDEOTAPE only just starting to transform Sundance into the monster event it would become, and we were all still low tech and lowdown…a great time to hang out with rebel film makers like SC alum Gregg Araki and others.
Great fun, and I barely remember most of it…
1994 – CLERKS, HOOP DREAMS and GOING FISHING
The year Kevin Smith made lo-fi filmmaking hit the big time.  Steve James brought the doc classic HOOP DREAMS, and I remember meeting Rose Troche and Guinevere Turner as they premiered the lesbian rom-com classic GO FISH.  Actually went skiing this year!
1995 – EXOTIC CRUMBS
Stayed in a friend's lovely condo, and our next door neighbor was Cheech Marin.
Saw the premiere of Atom Egoyan's EXOTICA and will never forget the atomic bomb of a doc that was Terry Zweigoff's CRUMB at the Egyptian Theater…a film that steered me towards a career in doc filmmaking.
Saw Brian Wilson play a show at the Riverhorse (Robert Redford was standing next to me with a tear in his eye).
1996 – JERKIN' BECK AND FORTH
One of my greatest music event memories – Beck and Devo playing a combo show at the Racquetball Club Tent – the site of a vast sea of 30- to 50-somethings pogoing like idiots and having a blast.
Top film – WELCOME TO THE DOLLHOUSE – terrifying!
2001 – Backstage pass
A wild year where there were about ten other festivals in Park City, including Slamdance, Slumdance, Dances with Films, even Troma Dance!  The DV digital boom was in full force.
I was lucky to be hired as post supervisor for the Sundance Channel's live coverage from the fest…a great group of people who worked and partied with the best of them.  Met Roger Ebert, saw an almost-reunion of the Sex Pistols, and created an animation of the face of director Caveh Zahedi.
Memento!  Donnie Darko!  Don Hertzfeldt's REJECTED!
PART TWO COMING SOON…